Best Test Taking Strategies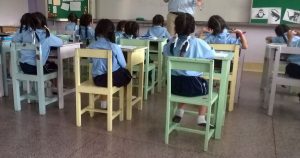 Tests are a part of your child's educational experience more than ever before. These days' students are given tests as early as kindergarten so test taking is part of any child's schooling for a large part of their life. Instead of worrying about it, why not find ways to help your child feel prepared and ready to take on the challenge by learning useful skills and strategies.
Whether your child is preparing for a college admissions exam such as the SAT, an important quiz or test in the classroom, there are several strategies that may be able to help your child score their best. One important thing to remember is to start early. Don't let your child wait until the last minute to cram for a test. Schedule weekly review sessions to make it a part of your child's routine. Lora Shinn wrote for Parents.com that you can help your child study by "engaging the senses." While some kids learn well reciting facts and using note cards, "some concepts stick better if you integrate the senses of touch, smell, and sound in fun ways. Throw a beach ball back and forth with your child as she recites science facts or state capitals. To help with reading or spelling, let kids use icing to write words on a cake pan or shape cookie dough on a baking tray to practice letters. Or sing the multiplication tables to a popular tune to help with memorization." Get creative and think outside the box. There are so many ways in which children learn and studying is no different.
Taking a test can be stressful for many students so it's important that they go into each test feeling relaxed and confident. Getting a good night's rest before any test is crucial. If possible, encourage your child to do some simple stretching or take some deep breaths prior to the test. Even taking a quick trip to the drinking fountain or exercising, when possible, can help to prepare children and put them in the right mindset to take a test. Some teachers will offer students a peppermint, as this will help soothe nervous stomachs and also stimulates thinking. Having a positive mindset will get your child off on the right foot!
Other general strategies include scanning the entire test before starting and reading the directions carefully. Students who rush may miss out on pertinent information and end up answering questions incorrectly when in fact they know the answer. Time management is important for all students during a test so while it's important not to rush, it's just as important not to take too long on a question. Skip difficult questions until all other questions have been answered and then go back to answer all questions with an educated guess. If there is time in the end, students should always look over the test before handing it in, making sure all questions are not only answered but answered to the best of their ability.
About the Author: Great Lakes Tutors is a group of qualified tutors who are certified teachers or educators with a significant amount of tutoring experience. Our tutors have expertise across all subjects including ACT and SAT Tests. Great lakes tutors provides best Science tutors in Ann Arbor for your child to give them the tools needed to succeed in the classroom.