The Art of Reading in Early Childhood Education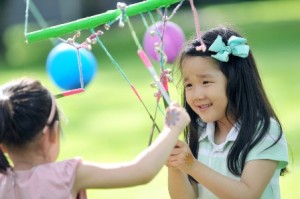 Learning to read is one of the most important skills a child is expected to master. Reading, especially in the formative years of life is challenging. As part of early childhood education, primary teachers in India should be trained to teach young learners the basics of good reading.
Some of you may ask why primary teachers should teach small children the art of reading. There are several reasons associated with this. A child who learns to read aloud is generally considered to be motivated and self confident. Those children who enjoy reading can also perform various activities with ease, such as reading an instruction while making blocks or playing with certain objects, cooking for fun and many activities. In other words, by encouraging the child to read, primary teachers can open a new world of experience to the child.
How do you teach a child to read?
As part of Montessori and nursery teacher training program, the American TESOL Institute's (ATI) courses for pre and primary courses teaches aspiring teachers the many different ways to help a child when he is learning how to read. One of the best ways to encourage children to like reading is by reading aloud to them. This makes them feel excited about the book and they may want to read. The teacher should also encourage the student to read aloud a story to him/her.
Reading with understanding of the text is most important. This is one area where the primary teachers should help children develop their reading skills by way of making them learn characters, themes and concepts. An important part of early childhood education is that the teacher should encourage young learners to observe pictures, ask questions, and understand characters and situations within the story. These techniques enable the little one to not only develop an interest in reading, but also learn how to be observant, inquisitive and sensitive to various needs in the surrounding.
It is also important for the teacher to see that reading becomes a daily activity for the child. Primary teachers should spend quality time with children with the help of storytelling, sharing texts and pictures so as to motivate them and help them develop self-confidence that is needed for them to be successful readers. As reading is more than a basic skill, it should be treated as a gift.
American TESOL Institute (ATI) offers nursery teacher training and primary teachers training programs to those who aspires to make a career in teaching with the help of many innovative techniques. For more information: www.teachertrainingindia.com/