Courses in Biotechnology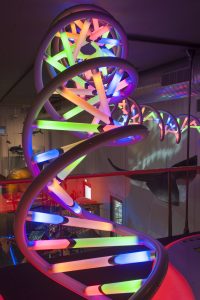 Biotechnology has come up as a very promising career option in India as well as abroad in the past decade. Owing to this, a lot of students with an interest in sciences and research opt for courses in biotechnology to take it up as a profession. As the term suggests, it is a combination of biology and technology. It is a knowledge-based industry that relies on human skills to leverage existing technology, scientific methods and knowledge of biology to come up with products and solutions to everyday situations of life as well as many other fields that affect us like medicine, agriculture, environment, genetics, industrial growth etc. In biotechnology, technology is applied on biological systems, living organisms, and enzymes to perform industrial or manufacturing processes. Biotechnology plays a major role in serving mankind by contributing to industries like agriculture, animal husbandry, health care…
For students looking to pursue biotechnology courses, there are various options of colleges in India as well as abroad. There are many graduate and post-graduate courses in biotechnology that one can opt for in India. The Department of Biotechnology, Ministry of Science and Technology under the Government of India is responsible for the regulation, formulation and implementation of biotechnology courses in India. Many government and private recognized institutes conduct such courses. With its increasing demand, new courses and institutes are being added each year. In fact, research suggests that Asia will soon become the hotbed of biotechnology thus leading to more and more students opting for studying biotechnology. Its scope and career opportunities in India are enormous.
To pursue biotechnology courses, one can do it both at under graduate and post graduate level. Undergraduate Biotechnology courses include B.Sc, B.E, B.Tech, 5-year integrated B.Tech/M.Tech) and at PG level (Msc/ M.Tech). You can also pursue specialized courses at research level. Generally, students prefer to go abroad for post graduate courses in biotechnology and also for research. However, these days, there is no dearth of good biotechnology courses in India too. For a post-graduate course, one should have graduated in Physics, Chemistry, Biology and Microbiology. The PG courses that are available in this field are M.Sc. Biotechnology, M.Sc. (Agriculture) Biotechnology, M.V.Sc. (Animal) Biotechnology, M.Tech. Biotechnology, M.Sc./M.V.Sc. Veterinary Biotechnology, M.Sc. (Marine) Biotechnology, Medical Biotechnology and M.Tech. in Biomedical Engineering/Biotechnology. After this, there are more advanced courses such as Ph.D. and Post-Doctoral Research in Biotechnology.
Biotechnology is interdisciplinary subject and its scope and application is quite diverse. Thus, there are various fields where one could specialize in biotechnology. Thus, students from different backgrounds can specialize in the field that they find their interest in such as Molecular Biology, Microbiology, Biochemistry, Biophysics, Botany, Zoology, Pharmacology, Physiology, Horticulture, Tissue Culture, Agricultural Engineering, Animal Sciences, Dairy Technology, Fisheries, Medicine, Life Sciences, Genetics etc.
The application of biotechnology is in many fields including agriculture, animal husbandry, industry and many other fields. Research is being done and money is being pumped into these fields to come up with better solutions for common life. Since the field requires most research work in laboratories, people who are introverts who enjoy being with themselves and reading a lot can really succeed in this field. The career prospects are also quite bright in biotechnology. It is a fast growing sector and offers a plethora of job opportunities in both government and corporate sectors. One could get a job in industrial research and development, where the aim is to enhance productivity and production Also, jobs can be taken up at laboratories that conduct chemical processes, genetic engineering, textile development and cosmetic development.
These days, there are lucrative jobs that can be taken up in the field of agriculture and animal husbandry. Agriculture plays a primary role in the Indian economy and biotechnology devises new ways to improve agricultural and animal yield. In the field of environment also, biotechnologists can land good jobs. Then there is genetic engineering where biotechnologists are deployed. Thus, there is no dearth of healthcare, medicine or R&D jobs for biotechnologists. By pursuing a course in biotechnology and gaining initial experience as an assistant with senior researchers, one can look to work with bigger names in public and private companies. The salaries offered are quite good for senior researchers and one could make a flourishing career in this field. For more information in biotechnology, one can talk to industry experts and graduates who have just joined this field.
About Author: Geetika Jain