Indian Folk Dances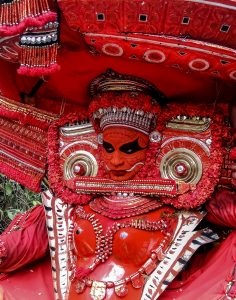 Indian Folk Dances are simple dances, and are performed to express joy and happiness among themselves. Folk and tribal dances are performed for every possible occasion, to celebrate the arrival of seasons, birth of a child, a wedding and festivals. The dances are extremely simple with minimum of steps or movement.
States and their Folk Dances:
Arunachal Pradesh– Mask dance (Mukhauta Nritya), War dance.
Andra Pradesh– Kuchipudi (Classical), Ghantamardala, (Ottam Thedal, Mohiniattam, Kummi, Siddhi, Madhuri, Chhadi.
Assam– Bihu, Bichhua, Natpuja, Maharas, Kaligopal, Bagurumba, Naga dance, Khel Gopal, Tabal Chongli, Canoe, Jhumura Hobjanai etc.
Bihar– Jata-Jatin, Bakho-Bakhain, Panwariya, Sama-Chakwa, Bidesia, Jatra etc.
Chhattisgarh– Goudi, Karma, Jhumar, Dagla, Pali, Tapali, Navrani, Diwari, Mundari.
Goa– Mandi, Jhagor, Khol, Dakni etc.
Gujarat– Garba, Dandiya Ras, Tippani Juriun, Bhavai.
Haryana– Jhumar, Phag Dance, Daph, Dhamal, Loor, Gugga, Khor, Gagor etc.
Himachal Pradesh– Jhora, Jhali, Chharhi, Dhaman, Chhapeli, Mahasu, Nati, Dangi, Chamba, Thali, Jhainta, Daf, Stick dance etc.
Jharkhand – Chhanu, Sarahul, Jat-Jatin, Karma, Danga, Bidesia, Sohrai.
Jammu & Kashmir– Rauf, Hikat, Mandjas, kud Dandi nach, Damali.
Kerala– Kathakali (Classical), Ottam Thulal, Mohini-attam, Kaikottikali, Tappatikali, Kali Auttam.
Karnataka– Yakshagan, huttar, Suggi, Kunitha, Karga, Lambi
Maharashtra– Lavani, Nakata, Koli, Lezim, Gafa, Dahikala Dasavtar or Bohada, Tamasha, Mauni, Powara, Gouricha etc.
Mizoram– Khanatm, Pakhupila, Cherokan etc.
Meghalaya– Laho, Baala etc.
Manipur– Manipuri (Classical), Rakhal, Nat Rash, Maha Rash, Raukhat etc.
Nagaland– Chong, Khaiva, Lim, Nuralim etc.
Orissa– Odissi (Classical), Savari, Ghumara, Painka, Munari, Chhau, Chadya Dandanata etc.
Punjab– Bhagra, Giddha, Daff, Dhaman etc.
Rajasthan– Ghumar, Chakri, Ganagor, Jhulan Leela, Jhuma, Suisini, Ghapal, Panihari, Ginad etc.
Tamil Nadu– Bharatnatyam, Kumi, Kolattam, Kavadi
Telangana– Ghantamardala, Ottam, Thedal, Kuchipudi (classical), Mohiniattam, Kummi, Chhadi
Uttar Pradesh– Nautanki, Raslila, Kajri, Jhora, Chappeli, Jaita.
Uttarakhand– Gadhwali, Kumayuni, Kajari, Jhora, Raslila, Chappeli.
West Bengal– Kathi, Gambhira, Dhali, Jatra, Baul, Marasia, Mahal, Keertan etc.