IB, CBSE & ICSE Schools are the best choices for students in India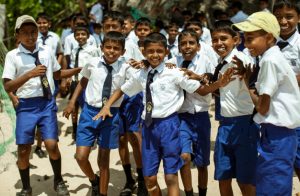 There is an undeniable rush among parents to let their wards get admitted into English medium schools. For this, they have a number of schools in India, which are growing in number as the days pass. Primary education, starting from LKG up to the tenth standard has a lot of options. There are government schools, girls' schools, boys' schools, Kendriya Vidyalayas, and convent schools.
Most of the schools that exist in the country are usually governed by three different formats such as government schools, courses affiliated to Central Board of Secondary Education (CBSE) and Indian Council of Secondary Education (ICSE). These are higher bodies that control the curriculum directly and there are regular changes in the course patterns and results. The recent spat over the markings given in the matriculation exam in the CBSE schools in India is an example of the changes that are being brought about in the country's education system.
International Baccalaureate schools are a new concept in India, which are governed by bodies with head offices outside the country. In other words many foreign based schools have opened their branches in India. These IB schools in India have been drawing attention in recent years due to their international exposure.
Some of the notable IB schools in India are Dhirubhai Ambani International School in Mumbai, Sapphire International School in Ranchi, Loreto Convent in Shillong, Hebron School in Ooty, Good Shepherd International School in Ooty, The British School in New Delhi, etc. Some of these IB schools in India are starting off in India itself and spreading to the other areas of the world, thereby taking Indian education into an international standard.
But, a majority of the schools are found in the category of CBSE. Many students prefer the CBSE schools in India due to their flexibility and economical cost of studies. Also, their courses are considered by many as easiest among the other schools. Still then, many bright students have come up from the CBSE schools in India and have gone on to become scholars in their later life.
CBSE Books are more than enough for you to cover the entire CBSE syllabus. In NCERT Books, you will have questions at the end of chapters. All major India-level examinations, such as, JEE, AIEEE and CAT have NCERT Books as the base.
Another great advantage of these CBSE schools in India is that, they can be found in any place that one goes inside India. This adds to their popularity, especially for the people who are having transferrable jobs. Many English medium schools are also termed as the ICSE schools in India as their primary mode of communication was established through English. Although such strictness is not able to be maintained always, yet, they are preferred by many parents for their children, as they provide an extensive teaching.
It is said that the teachings of the ICSE schools in India helps the students to do well in the later college days and their English is strong enough. There are a number of CBSE and ICSE schools where millions of students are taking admissions to complete their primary and secondary education in the country. The primary aim is to prepare themselves for the colleges and then chart out careers in different streams. With good back up of such schools in India, these careers are carved out in a better wayHealth Fitness Articles, provided the students give their best and create interest for studies.
ABOUT THE AUTHOR
The Infinite Courses, A foremost name in the arena of web sites offering umbrella solution to all education related queries and dilemmas. Explore IB Schools in India, CBSE Schools in India, ICSE Schools in India and much more.