Optometry is the Best Career Option after 12th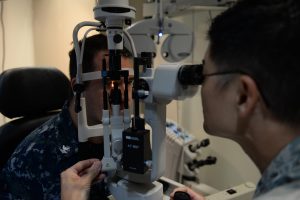 What is Optometry?
Optometry is the visual science that deals with the examination of the human eye for estimation of refractive errors and prescription of glasses, fitting and manufacturing of Contact lenses, Low Vision Aids, Orthoptics (eye exercises) and other Optical aids.
Who is an Optometrist?
An Optometrist is a health professional, who corrects the refractory errors of the human eye, fits contact lenses, and detects ocular related systemic and neurological diseases. In all eye institutions, an optometrist would work hand in hand with an ophthalmologist in diagnosing and treating visual problems. He would have important support position to the ophthalmologist and have an inevitable role to play in eye care services.
Skills you will acquire:
This four-year undergraduate degree programme will enable those passing out to become Optometrists, who can undertake –
Correction of refractive errors of the eye and prescription of glasses.
Detection of ocular related systemic and neurological diseases.
Designing and fitting of contact lenses, aniseikonic lenses and low vision aids.
Diagnosis and Orthoptics treatment of Oculomotor malfunctions such as heterophoria and strabismus
Primary eye care in schools, colleges, urban slums, rural areas and as Occupational Optometrist in industries.
Optometric counselling of patients with partial sight, colour blindness and hereditary vision defects.
Evaluation of health status and pathological conditions of the eye and visual system and referral of patients to a specialist at the appropriate stage.
The Opportunities:
OPTOMETRY OFFERS
There are many career options available to Optometric graduates as a result of their academic and clinical experience.
Independent Optometric Clinic with Optical outlet.
Practice in eye institutions/hospitals as every eye institution has an optometrist apart from ophthalmologists in their faculty.
A rewarding career in multinational companies dealing with eye care products such as contact lenses, ophthalmic lenses etc.
Excellent job opportunities both in India as well as overseas.
Further education leading to post-graduation, teaching and research in various fields of eye-care.
Optometry is one of the leading income-earning professions in many countries. It has favourable working hours with minimum emergency calls.
In Optometry there are two types of Courses:
Bachelor of Clinical Optometry (B.Optom.)
Master of Clinical Optometry (M.Optom.)
About Author: Rakesh Shinde
If you want to learn Optometry in Pune, Dr. D. Y. Patil Institute of Optometry & Visual Sciences, the best Optometry College in Pune. Visit us at http://optometry.dpu.edu.in/