Eco Friendly Playground Design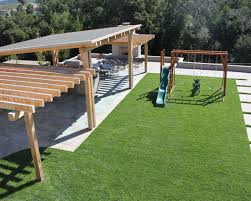 The last thing on any child's mind as they are happily playing on climbing frames and swings is whether their playground equipment is having a detrimental effect on the environment, and therefore their future enjoyment of the planet! But as they grow older this will start having an impact on their lives and the lives of their own children. Little do they know, as they laugh and play, that there are people committed to creating a safer, greener world for the benefit of future generations to come, and putting in place the tools needed to carry on this new eco-friendly tradition through the years.
Anyone would agree that sustainability is a key factor in helping the world progress, not only in terms of natural resources, but also in terms of the economy. This is one of the main reasons that playground equipment companies have developed world class eco-friendly playground products, which is specially catered for the individual needs of many different age groups, as well as being manufactured from ethically sourced, environmentally friendly materials.
Eco friendly playgrounds are designed with a dream in mind. This dream is the desire to improve the lives of the population in developing countries through more just working conditions and by having a less devastating impact on their natural habitats when obtaining resources.
So what sets an eco friendly playground apart from a non-eco friendly one?
In terms of production, the materials used to manufacture equipment such as swings, slides, activity must demonstrate a reduction in dependency on non-renewable resources. This can be achieved in a number of ways, one of which is by recycling (for example by using recycled wood chippings for surface materials). Manufacturers understand that recycling is a major aid in helping reduce pollution and by reusing materials where possible, there is more scope for development in this ever growing world.
Recycled materials are so versatile that they can be used to create a wide range of new apparatus including outdoor benches and picnic tables, surfaces, swings, slides, climbing apparatus and even fencing. The wide range of eco-friendly equipment available means there is an ongoing interest and awareness of pro-green play providers with an end result of creating a better world for everyone.
Eco-friendly playground specialists know that it is important to set a good example as early on in a child's life as possible in order to reap long term benefits for the whole population. The more productive business will work tirelessly with local authorities to encourage young people to lead more active and healthy lifestyles in the knowledge that by doing so on eco friendly equipment, they are helping to change the world one step at a time.
As well as all this, some corporations use a proportion of the profits from their ethically sourced playground equipment to support international organisations that are committed to improving the quality of life for developing communities.
Playtime is important, but so many companies forget about the long term scenario in their bid to make a quick turnaround. The best providers of playground installations put the time and effort required to really make a difference to the wider world through their products and this will have a long term impact on humanity. This means from generation to generation playtime can remain the way it should be; safe and happy in a more beautiful world that our children deserve to be a part of.

About The Author
Pete Tooley is former teacher who now designs outdoor play areas using eco-friendly playground equipment for http://www.monsterplay.co.uk