11 Tips Students Must Follow to Succeed in Class 10 Board Exam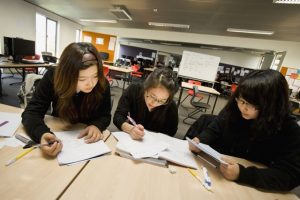 Yes, the countdown for the CBSE board exams have begun. For each student that is taking the class 10 board exams, this is the right moment you should start working efficiently.
We've seen many students being clueless about how they should cover such vast syllabus, all those difficult formulae and also handle the pressure of scoring great marks. Since we understand this, we have compiled eleven important tricks as well as tips that you can use to get away from the stress and involve in your preparations without any tensions!
You should choose to work when you know your productivity is at its most. Choose that time of the day when your body and mind is okay to sit down and calmly absorb information.
Realize the kind of concentration span you have, so that you can perform better. Physical exercises are the best to wield your concentration abilities. You can also choose to meditate and relax yourself in between the study sessions.
Have you got friends you can study in group with? Well, group studies could help greatly when you are preparing for difficult concepts or topics.
Time is paramount when it comes to writing exams. At the same time, time is also important while you are preparing. You need to have a time management plan for each of the subjects that you have to study. If you find any subject hard, allot more time for that subject and you can allot less time for easy ones. Allot the best timings for focusing on tough subjects.
Have a very calming study place. Yes, study places are equally important. Choose a study place that offers you no distractions so that you can work on your studies calmly.
Do not stay in the past. Don't judge your own abilities depending on the past results that you have got. Do not let your previous results discourage you. Instead, make that failure as the stepping stone and mark the areas you need to improve in.
If you get bored of cramming stuff into your head, or if you feel exhausted by learning dry topics, choose to practice diagrams as well as their labeling their parts. Diagrams can help your answers be more engaging. It will also help you secure more and more marks.
Do not forget to revise those subjects which you have finished studying. Frequent revision helps you recall things easily while you are giving your exam.
If you choose to practice sample papers or solve previous year question papers, make sure that you are strict with the time limits so that you learn managing time while you are at a real exam!
Jot down all essential formulae as well as equations of reactions whenever you come across them while you are studying. This will make it easy for you to revise those formulae and equations when you need them.
Don't overload yourselves with loads of books. Whether you are looking for Class 10 Science solutions or Maths solutions, NCERT books and other main solutions are just enough. Do not cram yourselves with various study materials.
You must also focus at keeping yourself relaxed. Don't miss out on your favourite TV shows, don't miss out playing sports or don't miss out going out with friends. These are the activities that will keep your mind fresh.
Don't anticipate your results too much. It will come when it will come. Don't stress yourselves about the aftermath of your exam. Keep yourself motivatedScience Articles, and all will be well!
These above mentioned tips must be enough for you to give your best for the upcoming board exams. Keep practicing. All the best!
About Author: Hey, I'm Abhijit. Living in Mumbai and a teacher by profession. I am a fan of photography, technology, and education. I'm also interested in web development and reading.