Exam Preparation Tips at the Eleventh Hour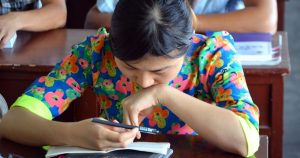 The board exams are approaching, and we can understand that your anxiety levels are rising by the day. Are you still in the phase of preparation?
Are you worried about your limited duration left to cover the entire syllabus? You need not panic. You'd only cram up stuff and fail to retain the information if you panic. You've come to the right place. We will provide you five tips for board exams using which you can make the most out of your last minute preparations!
Recognise the pattern in previous year question papers
This idea never grows old. It is also one of the highly recommend tips for better preparations. You can go through five question papers from the past five years. This would give you a fairer idea about the exam structure of the CBSE boards in terms of both the types of questions and weightage for the topics. For each subject, identify those topics that have repetitively occured. Don't waste time studying everything when you can prepare for the likely questions to come.
Even out your revisions
Studies have shown that we would be able to retain any information only if we have revised it some number of times. Hence, even if you've very limited duration, you must divide the time you have got between studying and revising. You should also spread across your revisions in various time intervals. This will help you study as well as revise frequently!
Practice the skills you will be scrutinized for
At times, kids just cram up the study materials without actually practicing the application of those concepts. If time is of essence, students feel that they need not practice the concepts but use the time to memorize more and more information. This will only lead to overloading, and you can retain very less. Instead, if you've practiced the concepts well, your answering abilities will be a notch higher!
Answer the questions in points
You must try to answer every question in a very concise manner. You should not throw away your time in writing long answers. Short answers with important points in bulletins or even following a rational pattern will capture the examiner's attention. You can also try and underline important points as well as highlight them. This ensures better scores in less time!
Take breaks, get enough rest
Stress is one of the major aspects that would hamper a student's performance. Studies say that it is wise to take frequent breaks every forty five minutes once, the breaks being of five minutes, so that the brain can absorb the concepts in a better way. This will also keep the mind refreshed while you are studying the concepts further. Also, good night's sleep is highly recommended! Students tend to miss out their sleepFree Reprint Articles, while they are studying. It is a very wrong thing to do! Make sure you get enough rest.
Well those were five last minute tips for board exams! All the best!
ABOUT THE AUTHOR
Hey, I'm Abhijit. Living in Mumbai and a teacher by profession. I am a fan of photography, technology, and education. I'm also interested in web development and reading. In this blog we have provided you five tips for board exams using which you can make the most out of your last minute preparations!