Google to improve YouTube Kids app to let parents control what children watch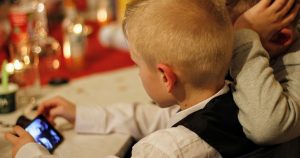 Google is updating its YouTube Kids app to improve the control over the videos and channels that can be watched by children.
YouTube Kids is a separate app for smartphones and tablets that provides access to a subset of the videos available on the main site. There have been 70bn video views since the app, which is used by 11m families, launched in 2015. In the app's biggest change yet, Google is giving parents much greater control over what their children can find and watch.
In controls rolling out later this year, parents will be able to manually approve individual videos or channels that their children can access through the app, giving them the ability to pre-vet and handpick a collection of videos to ensure they are appropriate.
Google is also creating collections of videos and channels from trusted channels such as Sesame Workshop and the YouTube Kids team, so that parents can select only the collections or topics they would like their children to have access to.
James Beser, product director for YouTube Kids, said said: "From collections of channels from trusted partners to enabling parents to select each video and channel themselves, we're putting parents in the driver's seat like never before."
In addition the firm will limit the video recommendations the app will make to only those from channels that have been verified by the YouTube Kids team, when parents turn off the search function within the app. Previously recommendations could include content from any video or channel that is accessible through the YouTube Kids app, not just those verified by Google's team.
Google is also rolling out signed-in profiles for YouTube Kids across Europe, the Middle East and Asia this week, which means parents can create individual profiles for each of their children on shared devices.
Beser said that the current version of the app will still be available for those who are content to use it, but that Google was continuing to "fine tune" its filters for the more open selection of content, encouraging parents to block and flag content they do not see as appropriate.
Josh Golin, executive director of the Campaign for a Commercial Free Childhood, saw the move as broadly positive, but said that more parental controls do not absolve Google of its responsibility to keep inappropriate content out of the YouTube Kids app.
"It's been clear for a long time now that algorithmic filtering on YouTube Kids doesn't work and giving parents the ability to select more human-reviewed content is an improvement," Golin said. "But let's not forget that most kids are watching the main YouTube platform, where they not only exposed regularly to inappropriate recommendations and content, but also ensnared by Google's troubling data collection practices."
Source: theguardian