Best places to celebrate your child's birthday party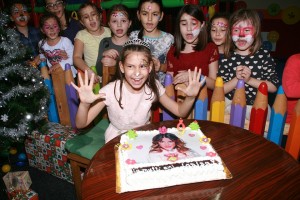 Your child's birthday party is always a special occasion for you!
One of the best places can be your own apartment or house. You can actually throw your birthday bash here. The best part is it doesn't cost your anything. If you have the party in your apartment you can just move away a table in your living room and make it more spacious for kids to move around. This can be done especially when you have called for outside entertainments. If you have house, your basement can also be a good place to celebrate the party. If the weather permits you could use your backyard too.
If your residence is not very big or located out of the way or you don't wish to have any work loads of cleaning up after the guests leave, there are a lot many options available.
If your budget is small you can hold the party at McDonald's or there are other fast food restaurants. You can also hold it in pizzeria. Generally the expense of food (and many times even the birthday cake) is included in the cost of fast food that the joint will charge you.
You can hold a shindig in the park, when the whether is kind of warm. You might require permission from some parks. Hence you should first make sure by talking to the local parks department. Incase you are holding the party out doors; you need to have an alternative plan ready, if it rains on that particular day. You can choose a rain date. But it's possible that some of your guests and your hired entertainment are not available on that date. Also take care that when the party is in the park its difficult for your guests to locate you, so keep your phone switched on and reachable, so that people can inform you on their arrival.
Your child's school or day care is also a good venue to hold the party celebration during the week. It might cost you very less. For this you need to first talk to your child's teacher or the day care owner or the principal. Check out the specific hours you will be allowed to have the party. Also ask for their policies for hiring outside entertainment. Many schools and day cares permit hiring of outside entertainment but some of them might now allow. Many schools may also not allow face painting or other things.
Another good idea is to hold the party in a community room. This can be done in a large apartment/condo building which has got a party room. You can also find out a church or a synagogue or local Y. You also have the American Legion Hall and Knights of Columbus that generally offers party spaces for hours by taking rent.
Some of the expensive ideas are a Chinese Buffet (they generally have an extra room to party or will enable you to book an extra room if you have good number of guest). A restaurant or catering hall is also some of the expensive places.
About The Author
James taylor writes about 1st Birthday