Qualities to Look for while finding Best Schools across India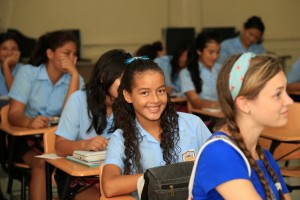 It is always a confusing task to select the best school for admitting your child there for his/her quality education. Every parent need to provide their child the best and the innovative education that can help them climb the ladder of their success. is the base of every leading career and good schooling always ensures that a child will be having excellent interpersonal and other skills that are helpful in the long run. However for that it's necessary to choose a school that wouldn't just provide the best education in region but also pay special attention to every child individually for his/her mental growth.
Encouragement of parent's involvement and participation
No school is best until and unless it encourage the participation of parents in the matters where it is necessary. Involving in the studies of child, their progress, extra circular and other activities help your child to build a dynamic career. You should check out how much involvement a primary school allows for parents. The conferences and the regular meeting of teachers and parents are extremely necessary.
Innovation and smart work
We just entered 2019 and this is the time that is bringing change everywhere in the world. So it's extremely important that school where you are going to admit your child pay attention to innovation and smart work. As this century is for those who know how to handle a work smartly, it is very essential for your child to have good practical skills to face this competitive world. Schools where new ideas are discussed everyday and students are taught how to work smartly are always the best schools. There are many such schools across India where you can admit your child.
Quality of education and experience of staff
The school you choose for your child should be able to offer the quality education that helps students in understanding the concepts deeply and its only possible if the staff is highly experienced and dedicated to their work. A pre-meeting with the head of school can help knowing about this. It's good to find a reference and especially those whose kids are already studying or have studied in that school.
Sports & other activities
A best school always conducts sports activities and encourages students for the maximum participation. These activities make sure that students will be good sports players along with their studies. This also helps students to refresh their mind and they can easily pay more attention to their students. Moreover it helps them to maintain good health and fitness which is very important in life. Check out other important activities that are helpful for the intellectual development of your child and whether the school pay attention to same or not.
In addition to this, the school must have teachers and students in a perfect ratio. This makes sure that every student is given special attention and is being helped with his/her weak subject(s). There must also be good basic facilities such as good infrastructure, outdoor play areas, library with all necessary books, drinking water facilities as well as medical & transportation facilities.
By Author: Sohan Rawat