Getting A Business Degree In Chicago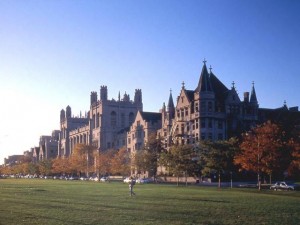 As the world's fourth most important business center and home to major financial, manufacturing, and hospitality companies, Chicago has plenty to offer eager jobseekers. Unfortunately the city is also home to the United States' second largest labor pool, so standing out is an important aspect of getting a job. Completing one of the numerous Chicago business programs is perhaps the easiest way to get noticed.
Associates Degree puts Graduates on Track
Instead of accepting random undergraduate credits, many employers want applicants to hold Associates degrees. A two-year degree introduces the field of business and provides relevant experience that can be discussed during a job interview. It is also an established midway point for anyone determined to complete an undergraduate degree and even higher levels of education.
A two-year Chicago business education provides an essential foundation in the following areas:
* accounting and finance – how to bring in, spend, and track business money, including accounts payable, accounts receivable, and payroll
* management – how to lead teams, set goals, and improve organizational performance
* marketing – principles of selling, advertising, and relating to business and personal consumers
* economics – introduction to business decisions based on supply, demand, and the characteristics of local, state, national, and world economies
* human resources – basics of training, compensation and benefits, employer/employee relations, and employment law
* business law – the basics of contracts and legal requirements
* information technology – introduction to Microsoft Office, how computer applications can improve business operations
Courses will often combine real-life case studies, hands-on simulations, and lectures from experts in the field to teach concepts in a meaningful and applicable way. Due to its large population, Chicago is home to plenty of colleges and universities. Many of these schools offer campus-based and online courses for flexibility and convenience.
Variety of Employment Fields
Due to the broad background offered by Chicago business programs, students are prepared to work in almost any industry. Fortune 500 corporations, financial firms, insurance companies, government agencies, colleges and universities, hospitals and medical offices, social services departments, and marketing or public relations firms are just a few of the employment options.
Even students with little previous work experience can find jobs as entry-level retail managers, office managers, bookkeepers, human resources assistants, hospitality agents, and sales professionals.
A Chicago business education bestows the critical knowledge necessary to start at a new company. Apply your knowledge and skills to the matters that interest you, and watch your career grow to the highest levels.
About The Author
Chicago business programs can prepare the students work in any industry. Chicago business education covers many different niches.