Tips and Tricks to a Magical Disney Vacation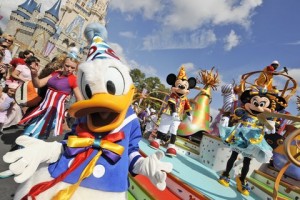 It all started when I was two years old. My parents brought me to the magical land of Disney World, and I was hooked. I've been there at least 15 times
Every vacation there has been magical  even in the heat and humidity of Florida in August! Although most of this was due to the magic of Disney itself, it was also due to the tips I have learned, and the tricks we use frequently! Allow me to share a few with you so that your Disney vacation can be just as magical as mine are!
Utilize Extra Magic Hours
Being a Disney resort guest, your family can enter certain parks an hour early, or stay up to three hours later at night! These are great times to ride on those popular rides before crowds start to form, or when the crowds are leaving.
Take an Afternoon Break
This is extremely important if you are traveling with kids, or are visiting in the summer. Taking a break from the parks in the afternoon allows you to enjoy your resort pool, or take a nap so you can ride more rides in the evening. It also lessens the chances of a mid-day breakdown in the middle of Main Street USA!
Make Dining Reservations
Even if you are traveling during a value season, it is important to make dining reservations! It is very difficult to walk up to a restaurant and be able to have a meal. Disney allows you to make these 180 days before your arrival date, so research what restaurants you are interested in first, then make those reservations!
Use Disney's FASTPASS
Disney's FASTPASS is available for any guest who has a park ticket. Head to your favorite ride (that usually has a longer line) and put your park ticket in the kiosk. It will print out a ticket with a return time for you to come back to the ride, walk in a shorter line to the front of the line! After using your FASTPASS (or 2 hours after getting one) you can do the same for another ride. (Another note: if the stand-by line is 20 minutes or less, it is better to just wait in line.)
Explore the Resorts
Disney's attention to detail goes beyond the theme parks. Explore the resorts as well! At the Animal Kingdom Lodge, you can view animals outside the hotel room, roaming in the savannah. At the Polynesian Resort, listen to the sounds of the Pacific islands while relaxing on a white sand beach. At Coronado Springs Resort, explore ancient Mayan ruins. At the Boardwalk Resort, watch entertainers along the actual boardwalk! (Another note: If traveling around the holidays, the resorts are decorated with trees, lights and even gingerbread houses!)
The tips and tricks are endless! Each Disney vacation is different in its own way  but always magical!
About The Author
Megan Biller is a travel planner with Glass Slipper Concierge, which, in association with Sanborns Travel Service, is recognized for superior vacation planning services and has been designated by Disney as an Authorized Disney Planner. Contact Megan at [email protected] to allow her to plan your Disney vacation!
The author invites you to visit:
http://www.facebook.com